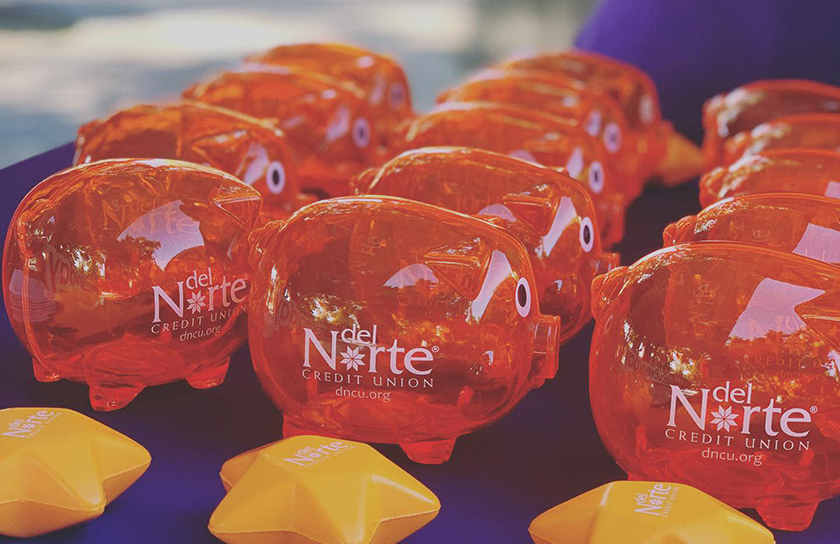 Community Sponsorship Programs
DNCU is your ideal partner for a better future.
Guidelines for Sponsorship Requests
DNCU's guidelines were developed to ensure that our charitable contributions reach the intended recipients and/or provide a meaningful promotion of DNCU as a philanthropic organization. Our philanthropic activities align with our company values, which is why we adhere to a specific donation philosophy.
In addition, in line with best practices for philanthropy, DNCU gives added weight to organizations which manifest a collaborative approach to solving issues in our communities when deciding whether to fund a request. DNCU donations/sponsorships must meet these guidelines:
Benefits our communities in the areas we serve
Benefits an organization or program directly
Must be a private or public charity foundation deemed by the IRS
Does not support any one particular religion or belief system
Must support at least one of our philanthropic missions:
To promote financial literacy or
To improve the lives of youth
In order for us to consider your sponsorship request, this form must be as complete as possible. If we have not sponsored your organization before, a W9 is required. You may attach your W9 directly on our request form. All checks will be made out to the organization listed on the W9.
Please proceed to our Sponsorship & Donation Request form to submit your request.
Please accept our sincere appreciation for your act of generosity and the important part you have played in improving the lives of your neighbors in need.

— The Food Depot
2019 – 2020 Community Partners
The employees of DNCU continue the credit union's good work—we commend them for their philanthropic efforts on behalf of positive causes and their yearly volunteer contributions to a variety of local charities and organizations.
Here's just a sample of some of the community projects we've proudly helped support.
Santa Fe Bandstand

Our summer months in northern New Mexico are not complete without a little music for our community.

Los Alamos Chamberfest

The DNCU Street-Team is always looking for fun and creative ways to engage our community– this was our attempt to break world-record!

DNCU's Coat Drive

We also organize efforts that involve our membership, employees, and community to come together to support those in need. Our coat drive supports three area nonprofits and collects thousands of coats each year.
Española Health Fair and Concert

Our DNCU Street-team is always ready to support events that make a difference in people's lives.

Los Alamos ScienceFest

What's better than science up on the hill? And with a matching marching band, our team loves this Trinity celebration!

Pojoaque Valley Reality Fair for Youth Month

We take financial literacy to a new and fun level with interactive and exciting ways for our youth to learn about budgeting, finances, and so much more!
Charities and organizations we supported
2019 - 2020 included:
American Cancer Society, Inc. (ACS)
ARTsmart New Mexico
Barrios Unidos
Big Brothers Big Sisters Mountain Region (BBBS)
Boys & Girls Club of Santa Fe
Breath of my Heart Birthlpace
Cancer Foundation for New Mexico
Center for Contemporary Arts (CCA)
Children's Clinic, PA
City of Espanola
College and Career Plaza
Coming Home Kids
Communities In Schools of New Mexico
Compassion Through Action
Cooking with Kids, Inc.
Direct Sports Group
Downtown Action Team of Espanola
El Centro Family Health
Eldorado Arts & Crafts Association
Embudo Valley Library and Community Center
Embudo Valley Tutoring Association
Espanola Community Matanza
Espanola Pathways Shelter
Espanola Valley Chamber of Commerce
Espanola YMCA Teen Center
Esperanza Shelter for Battered Famiies
Expanding Your Horizons
Family Learning Center Inc.
Fore Kids
Gerard's House
Growing Up NM (formerly United Way of SF)
Habitat for Humanity EVLA
Habitat for Humanty Santa Fe
Innovate+ Educate
Inside Out
Interfaith Community Shelter Group, Inc
Kitchen Angels
La Familia Medical Center
La Fonda del Sol
Las Cumbres Community Center
Leadership Santa Fe
Lensic Performing Arts Center
Life Link
Los Alamos Commerce and Development Corporation
Los Alamos County Environmental Services
Los Alamos Historical Society
Los Alamos Police Department
2019 - 2020 included:
Los Alamos Public Schools
MANA del Norte
Mentoring Kids Works NM
Moving Arts Espanola
Mucho
National Dance Institute (NDI) New Mexico
New Mexico Coalition to End Homelessness (NMCH)
New Mexico Performing Arts Society (NMPAS)
New Vistas
NIE Solutions, LP/ Newspapers in Education
Northern New Mexico College Foundation
Northern New Mexico Regional Art Center
Northern Youth Project
Pajarito Environmental Education Center (PEEC)
Ponderosa Montessori Inc. (School)
Rio Arriba Imagination Library (RAIL)
Salvation Army of Santa Fe
San Martin de Porres Soup Kitchen
Sancre Productions
Santa Fe Area Home Builders Association
Santa Fe Chamber of Commerce
Santa Fe Childrens Museum Inc.
Santa Fe Civitan Club
Santa Fe Downtown Kiwanis Foundation
Santa Fe Independent Film institute (SFFI)
Santa Fe Habitat for Humanity
Santa Fe Public Schools
Santa Fe Striders
Santa Fe Symphony Orchestra & Chorus
Santa Fe Watershed Association
Santa Fe Womens Ensemble
Secret City Kitchen
SFPS Adelante
Sombrillo & Aspen Ridge Lodge
St. Elizabeth Shelter
STEM Santa Fe
Tewa Women United
The Center for Contemporary Arts (CCA)
The Family YMCA
The Food Depot
The Salvation Army
The Santa Fe Symphony Orchestra & Chorus
United Way of Northern New Mexico
Upper Pecos Watershed Association
Wise Fool New Mexico
Youth Shelters & Family Services
YouthWorks
We believe that investing in our youth is an investment in the health, welfare, and future of our community. Thank you for being a part of this effort.

— Youth Shelters & Family Services
You do make a difference in peoples' lives. Thank you!

— Los Alamos Family Council
Join us
Call us
505-455-5228 or
(877) 818-3628 toll-free.