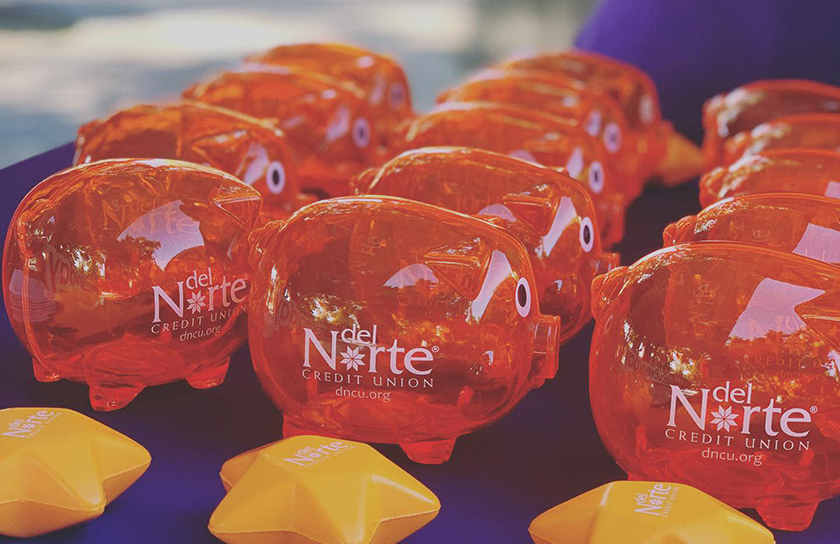 Community Sponsorship Programs
DNCU is your ideal partner for a better future.
Guidelines for Sponsorship Requests
DNCU's guidelines were developed to ensure that our charitable contributions reach the intended recipients and/or provide a meaningful promotion of DNCU as a philanthropic organization. Our philanthropic activities align with our company values, which is why we adhere to a specific donation philosophy.
In addition, in line with best practices for philanthropy, DNCU gives added weight to organizations which manifest a collaborative approach to solving issues in our communities when deciding whether to fund a request. DNCU donations/sponsorships must meet these guidelines:
Benefits our communities in the areas we serve
Benefits an organization or program directly
Must be a private or public charity foundation deemed by the IRS
Does not support any one particular religion or belief system
Must support at least one of our philanthropic missions:
To promote financial literacy or
To improve the lives of youth
In order for us to consider your sponsorship request, this form must be as complete as possible. If we have not sponsored your organization before, a W9 is required. You may attach your W9 directly on our request form. All checks will be made out to the organization listed on the W9.
Please proceed to our Sponsorship & Donation Request form to submit your request.
Please accept our sincere appreciation for your act of generosity and the important part you have played in improving the lives of your neighbors in need.

— The Food Depot
2022 Community Partners
The employees of DNCU continue the credit union's good work—we commend them for their philanthropic efforts on behalf of positive causes and their yearly volunteer contributions to a variety of local charities and organizations.
Here's just a sample of some of the community projects we've proudly helped support.
Los Alamos Fire Fighters

DNCU supporting our local Fire Fighters during the Holidays. Our Los Alamos branch employees presenting some Thanksgiving Meals to the Los Alamos Fire Department.

Shop with a Cop

The Shop with a Cop/Firefighter Event was a huge success in Espanola. DNCU was one of the proud sponsors and able to witness the children enjoy their shopping spree with a Police Officer or Firefighter.

Pancakes on the Plaza

Del Norte Credit Union team members promoting DNCU products and Services on the 4th of July for Pancakes on the Plaza. A fun time was had by all!
Forget Algebra

Luis Rosales at Project Y in Los Alamos hosting a workshop for youth called Forget Algebra. Mr. Nathan Delgado conducted the workshop for over 40 youth.

Rio Rancho Fall Festival

Lori Schutt our SVP of Human Resources participating at the Rio Rancho Fall Festival. This was a great event promoting our Youth Accounts.

Albuquerque Bridal Fair

Del Norte Mortgage team Ever Acosta and Thelma Rodriguez participating at the Albuquerque Bridal Fair 2023.  Helping young couples become familiar with our Home Equity Line of Credit product line.
Charities and organizations we supported
2021-2022 included:
Abrazos Family Support Services
AMP Concerts
ARTsmart New Mexico
Big Brothers Big Sisters Mountain Region (BBBS)
Boys & Girls Club of Central New Mexico
City of Espanola
Del Norte LOV Foundation
Espanola Firefighters Union
Espanola Pathways Shelter
Espanola Valley Chamber of Commerce
Fiesta De Valle De Espanola
Global Spectrum LP
International Folk Art Market
Kitchen Angels
Kiwanis Club of Los Alamos
Leadership Santa Fe
Los Alamos Family Council, Inc.
Los Alamos Schools Credit Union
Moving Arts Espanola
National Multiple Sclerosis Society
New Mexico Children's Foundation
2021-2022 included:
New Mexico Coalition to End Homelessness DBA Espanola Pathways Shelter
New Mexico Kidney Foundation
Not Forgotten Outreach, Inc.
Railyard Park Conservancy
Rio Rancho Kiwanis Foundation (Southwest District)
Rotary Club of Santa Fe Foundation
Santa Fe Area Home Builders Association
Santa Fe Botanical Garden
Santa Fe Chamber of Commerce
Santa Fe Chamber Opportunities Fund
Santa Fe Civitan Club
Santa Fe Hispanic Chamber of Commerce
Santa Fe Little League
SCORE Santa Fe & Northern New Mexico, Chapter 373
St. Vincent Hospital Foundation
STEM Santa Fe
The Food Depot
The Salvation Army
The Santa Fe Downtown Kiwanis Foundation
UNM Lobo Club
Upper Pecos Watershed Association
Youth Development Inc. Casa North
We believe that investing in our youth is an investment in the health, welfare, and future of our community. Thank you for being a part of this effort.

— Youth Shelters & Family Services
You do make a difference in peoples' lives. Thank you!

— Los Alamos Family Council
Join us
Call us
505-455-5228 or
(877) 818-3628 toll-free.