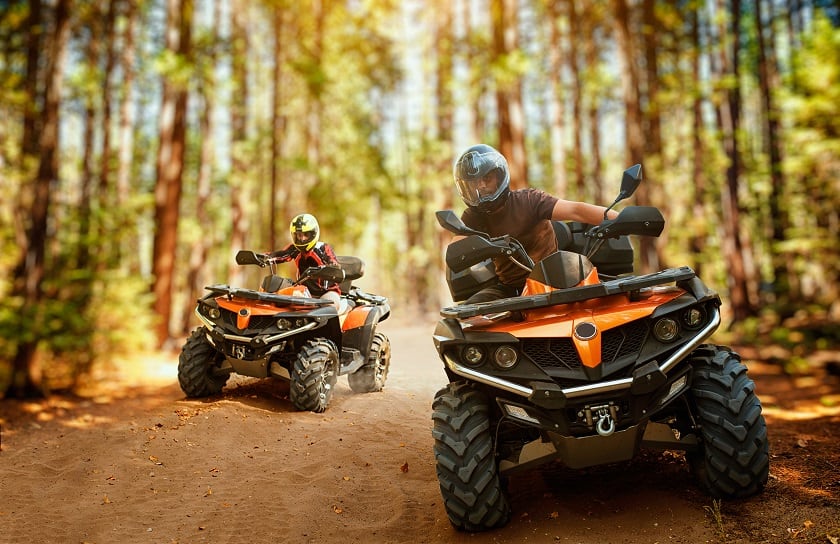 Power Sports
Break new ground with DNCU Borrow.
Motorcycles, dirtbikes, ATV/UTVs, jet skis, snowmobiles and more — you have options when it comes to taking the road less traveled. No matter which ride you choose, DNCU Borrow is here to help you finance your favorites.
Apply

Have your financing ready when you spot the perfect ride. Apply online, at a branch or over-the-phone today.

Sign

Get past the red tape like a Gixxer and be on the trails as fast as possible with helpful and knowledgeable loan officers at DNCU.

Starter Button

You're ready to ride. Hop on (or into) your favorite power sports with the confidence that a loan from DNCU Borrow provides.
Current Rates
Powersports

Model Year

APR*** as low as

DISCLOSURES

Eligible Types: Dirtbike, Personal Watercraft, Jet Ski, Snowmobile, ATV/UTV, Side-bySide, Sportbike, Enduro/Dual Sport, Motorcycles like Harley-Davidson & BMW, Personal Utility Trailers, Horse Trailers w/o Living Quarters, Small Tractors & Equipment.

Loan Rates are current as of September 13, 2021. Loan Rates and Fees may change at any time without notice. Please contact a member services representative for details.

***APR= Annual Percentage Rate. This is not an offer for credit. Your rate may be different based on credit approval, collateral, or terms requested. Rates advertised may change at any time without notice. Please contact a lender for detail on current rates and terms.

Offer is subject to credit approval. Your approved rate and APR may be higher or lower based on credit, term, loan amount, or collateral. Loan subject to $37 processing fee. APR shown assumes term of 36 months, $10,000 loan amount, clean title, LTV not to exceed 115%, minimum FICO score of 730+, and must meet debt to income requirements. APR assumes a .50% discount for automatic payment and full payroll direct deposit. Other terms and conditions may apply. Speak with a lender regarding the specific requirements.

¹Model 10+ years old OR more than 100,000 miles.

2011 - 2021

3.74%

2010 or older1

4.74%
Apply for a power sports loan today
Ready to get started? Apply online now to get the details of your low interest and hassle-free power sports loan with DNCU.
APPLY NOW
Join us
Call us
505-455-5228 or
(877) 818-3628 toll-free.