2023 DEL NORTE LOV FOUNDATION CALENDAR: CALL FOR PHOTO ENTRIES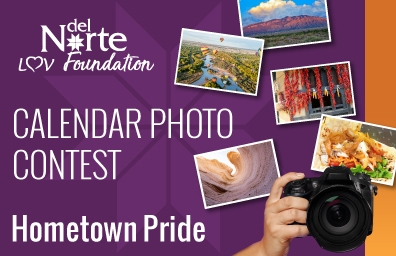 Call for all photographers!
Our 2023 calendar photo contest is now underway
It's time to share your inspiring pictures for our 2023 Del Norte LOV Foundation Calendar.
We're looking for an answer to the question, when you close your eyes and picture your hometown, what makes it stand apart from all other places? What makes it diverse, beautiful, or unique?
Share your best and you might just win a slot in next year's calendar.
We prefer images without identifiable people.
Give us a name for your image.
Tell us how you found pride in your image.
Images must be at least 8.5″ x 11″ att 300 dpi, 3300 x 2500 pixels to be high enough quality for our calendar.
Multiple submissions are acceptable, but for email security, one image must be sent at a time.
Images will be judged by a committee based on originality and skill. DNCU and the Del Norte LOV Foundation require a non-exclusive, unlimited use license for all winning images.
Winners will receive $50 per winning image into an existing DNCU account as well as credit on the calendar.
Winners will be contacted on or before October 28, 2022. Prizes will be awarded by November 18, 2022.
Submit to [email protected]
Deadline for submissions is September 30, 2022.
Thank you and good luck!