Del Norte Credit Union Is Proud To Announce New VP of Talent; With High Hopes to Innovate Employee Experience
Santa Fe, New Mexico, December 17, 2020 – Del Norte Credit Union (DNCU) announces a new addition to the organization's Human Resources division, Katie McNutt joins DNCU as Vice President of Talent. A seasoned executive, McNutt joins DNCU after holding key talent and HR roles in finance and high tech industries.
"I am truly looking forward to being a part of an organization and culture that is already special to employees in the growing company. As I (virtually) meet the different areas and teams at DNCU, I am amazed at the passion for excellent member service," says Katie McNutt, VP of Talent for DNCU.
McNutt, who has experience working for major Fortune 500 companies will focus on implementing a talent management strategy and leadership development curriculum with an emphasis on growth, performance excellence and leadership—the credit union has been on a quality and performance excellence journey for several years. DNCU has been recognized as a Road Runner recipient at the Quality New Mexico Performance Excellence Awards and was recently voted as a Best Place to Work in the Albuquerque Business First annual recognition awards.
According to Chief Culture Officer Jolene Allen, "Katie brings a wealth of knowledge, experience and talent and we couldn't be happier to welcome her. It is with her refreshing and innovative approach to talent and learning that our already high-performing team will take new heights."
To learn more about career opportunities at the not-for-profit financial institution, visit dncu.com/careers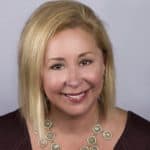 About Del Norte Credit Union
Chartered in 1954, Del Norte Credit Union is a not-for-profit credit union based in New Mexico with a mission of Improving Lives. DNCU offers a wide variety of products and services designed to make members achieve financial success. Today DNCU serves more than 57,000 members throughout New Mexico and the United States. Del Norte Credit Union is an equal opportunity employer.
###