A Guide to Teaching Your Kids About Money at Every Age
First words. First steps. First day of school. There are many childhood milestones that parents cherish and remember. Developing an understanding of money and the critical role that it plays in the lives of all Americans is another important goal that parents can guide their children toward achieving.
In this "Guide to Teaching Your Kids About Money at Every Age", we provide useful tips on steps that you can start taking today to empower your child as they develop their own relationship with money and embark on a lifelong journey toward financial security and success.
Laying the Financial Foundation: Preschool and Elementary School
It's never too early for your child to start learning about being prepared, managing resources, and setting goals. Start setting the right tone for discussions about money and begin to lay a foundation for lifelong financial success with the following tips:
Stay Positive – portraying money as a means of problem-solving and achieving goals can contribute to a stress-free environment for young children as they develop their own relationship with money. Avoid framing finances in terms of conflict or as a never-ending burden for you and your family. Whenever possible, try to include your young children in financial decisions such as budgeting for a family outing or making choices within a budget.
Explain Wants versus Needs – helping children draw a distinction between what they want opposed to those things that they need is critical to your child's understanding of financial priorities. Use examples of wants such as toys, candy, or games, and distinguish them from needs such as food, shelter, and clothing.
Describe Different Types of Money or Payments – introducing your youngest children to physical currency, including coins and bills, is necessary for a later understanding of more complex concepts such as checks, digital payments, and credit cards. Emphasize the importance of handling money responsibly, regardless of the form that it takes.
Looking to expand upon your financial skills as a new parent? Get insights and tips on financial planning for new parents in our Financial Fitness section.

Introducing Concepts: Middle School
As your children enter middle school, they become capable of understanding more complex concepts regarding money. Help them understand the connection between income, savings, and budgets with the following guidance:
Learn to Earn – it's never too early for children to understand that time and work translates into earning money. Try to provide your child with a diverse set of tasks that involve varying amounts of time or skill so that they understand that they will be paid more or less depending upon the service(s) they are providing to a customer or employer. As they mature, common sources of income for middle schoolers include babysitting, pet sitting or pet walking, yard work, and tutoring.
Spotlight on Savings – children struggle with the idea of delayed gratification. Emphasize to your middle schooler that saving money today brings significant wants or needs within reach later. Remind them that they will encounter unexpected costs that will require savings. Lead by example by saving money yourself, spending responsibly, and consider giving your child their own first youth account.
Budgeting – start with a list of income sources and monthly expenses. Separate those monthly expenses between wants and needs and determine how much money will remain after meeting expenses. This will help determine your child's priorities and establish spending limits. Make appropriate adjustments based on this information and emphasize the need for monthly monitoring of all spending. Lastly, encourage your child to reach out for help when needed, and be sure to also reward them for sticking to their monthly budget.
Need more great ideas for guiding kids and teens toward greater financial literacy? Check out DNCU's Kids & Teens section for a wide variety of fun and informative resources for the youngest members of your family.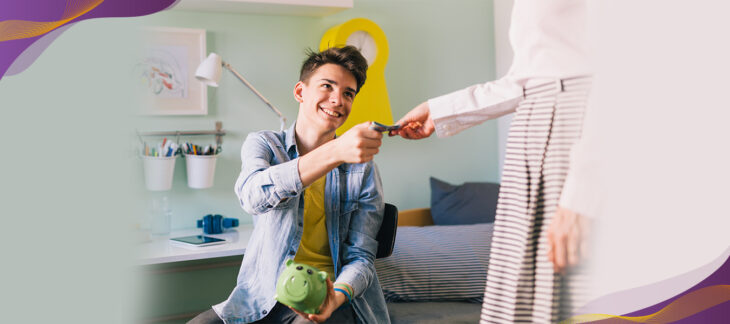 Preparing for Adulthood: High School
Many high schoolers understand far less than they claim when it comes to money. Help match their confidence with actual financial knowledge with the following fundamentals:
Getting Paid – your child's high school years are an ideal time to take on part-time employment or otherwise earn money outside of the home. Part-time jobs, freelance work and gigs, internships, and even opening and operating a small business can pay off in more ways than one. In addition to earning income, your child will learn time management and balancing academic demands with other obligations.
Managing Money – learning to manage personal checking and personal savings accounts is a vital skill for teenagers. Managing one's own accounts is great training for budgeting, understanding interest, avoiding overdrafts and penalties, proper use of debit cards, and online account tools.
Early Warning – while credit is an important and unavoidable part of personal finance, young minds can easily misinterpret credit card and other debt as "free money." Ensure that your teen understands the dangers of taking on too much debt, especially revolving credit card debt at high interest, and that credit utilization has important implications for their credit score.
Did you know that according to the Council for Economic Education (CEE), New Mexico is one of 25 states that require a standalone high school course in economics or personal finance to be taken by students? Read the entire 2022 Survey of the States here.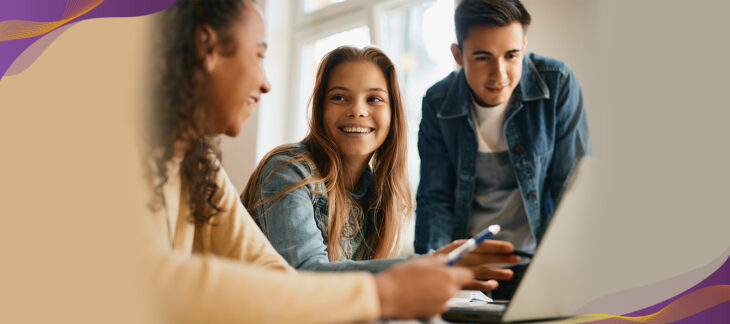 Lessons For New Grown-Ups: The College Years
College years are a pivotal moment for young people. In addition to developing skills to propel them toward fulfilling careers, college is also the starting line for their financial history, credit scores, and money management habits. Help create a financial hero's origin story with the following ideas for the new grown-up in your family:
Establish Credit – obtain a secured credit card, which typically requires a deposit, or a student credit card to make small purchases that are then paid off in full at the end of the month. Consider adding the student as an authorized user of the card so that he or she may receive a boost to their credit score stemming from responsible use of the account by the parents. Encourage prompt monthly payments for all expenses, including utility bills, to avoid credit score penalties related to late payments.
Cut Back on Spending – help create a monthly budget for your college student and encourage disciplined tracking of all spending. Limit eating out at restaurants, take advantage of all student discounts available, split expenses with roommates, and organize carpooling with classmates to save on transportation costs.
Manage Student Loans – young people agree to take on student loan debt in anticipation of earning higher incomes as college graduates. Help your child understand the fine print of student loans, including interest rates and repayment options. Encourage extra payments to reduce the loan amount and save on interest, research loan forgiveness options for careers in public service or education, and look for scholarship opportunities.
Interested in ways that you can start saving for your child's college fund? Check out our free guide today and discover 12 ways that you can reduce spending and financial stress.

Del Norte Credit Union is your ideal partner for a better future!
As a member-owned, not-for-profit financial institution in New Mexico, rely on us for sound and unbiased financial advice that you can share with the entire family. Check out these Financial Advice and Help Resources, including how to set yourself up for financial success in 2023, for more information on financial solutions or call us toll-free at (866) 818-DNCU (3628) to join DNCU today.
Disclaimer: This article is for informational purposes only. For advice regarding your specific financial situation, please consult a financial planner or a trusted financial professional.