DNCU Implements New Technology in Española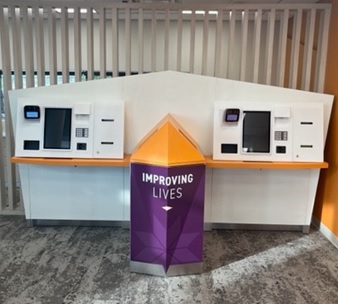 We are excited to announce Del Norte Credit Union will soon have a first of its kind technology in New Mexico! At our Española Paseo Office, a Self Service Kiosk provides another way to handle your transaction privately in our branch. If you need any assistance, a DNCU specialist will be nearby to help.
This new technology will help us improve our member service and experience. We are now able to offer a variety of transaction methods including face-to-face, online, drive-through, interactive teller machine, and now self-service kiosk. We are able to service members in their preferred way.
When we unveil this new technology to our members, we invite you to come to our Española Paseo Office at 1216 Paseo de Oñate, Española, NM 87532. We will have staff available to answer questions, and a giveaway for the first two months of the technology being available. Members who transact using the self-service kiosk will be entered for a chance to win a $100 gift card in a weekly drawing. Odds of winning will be based upon the number of entries. Winners will be drawn weekly at random every Monday for the previous week. You must be a DNCU member to win. DNCU Employees and immediate family members are not eligible. Additional terms and conditions may apply. Giveaway ends June 16, 2023.