Guide to Adventure Loans: Financing Tips & Strategies for RV's, ATV's, and Campers
Have you been dreaming of a motorhome, camper, or RV trailer? Here in New Mexico, many of us already love to explore the great outdoors. With an RV of your own, you can see more of our state's natural beauty and landmarks as well as visiting other states or traveling across the country. In this article, we'll help you find the right type of RV for your needs and break down everything you need to know about RV financing.
What Types of RVs are There?
With so many options available, finding the right RV for your purposes can be a complicated process. To make the decision easier, we've broken down the different types of RV by category, motorhome vs. towable, and the options within each category.
Motorized vs. Towable
Motorized RVs, aka motorhomes, have engines so they can be driven on their own. There are four types of popular motorized RVs: Class A motorhomes, Class B motorhomes, Class C motorhomes, and Campervans.
Class A: Big busses that usually tow a smaller vehicle behind them. Also, often the most expensive option—expect a six-figure price tag with this type of RV. Class A RVs are an attractive choice for buyers who want to live full-time in their motorhome.
Class B: These RVs look like vans and some are oversized with slide-outs. Class B RVs are typically more affordable than Class A. The highest-end models can cost up to and beyond six figures, but you can find plenty of less expensive options. Also, easier to drive/maneuver than Class A RVs.
Class C: Built on a pickup truck or van frame as a single unit with a camper shell. While the purchase price of a Class C is usually less expensive than a Class B, the Class C vehicle may come with higher fuel and maintenance costs.

As the name suggests, Towable RVs, aka trailers, require a tow vehicle to get from one place to the next. They are often a more affordable option than motorized RVs. There are five types of popular towable RVs: Fifth-wheel trailers, Travel trailers, Sport-Utility trailers, Truck Campers, and Pop-Up or Fold-Down Campers.
Fifth-Wheels: Big travel trailers with the hitch usually mounted to the bed of a pickup truck. Fifth-wheel trailers are typically the most expensive option because they offer the most space and luxury of the towable RV options.
Travel Trailers: These are smaller than fifth wheels, but still fairly sizable in their own right. The hitch hooks up to the back of the tow vehicle. The Airstream brand and Iconic "Bambi" model are good examples of travel trailers.
Sport-Utility Trailers: For ATV, motorcycle, and/or jet ski enthusiasts, a Sport-Utility trailer combines "toy hauling" with living space. They are divided into two sections: the back has space and a ramp, while the front is your living quarters. Best for travers who want to bring their motorized sports vehicle(s) on the road with them. Cargo area can also be converted to additional living space.
Truck Campers: Consisting of a hard-sided camper shell, these fit onto pickup trucks and sleep up to four people with cooking, dining, storage, and bath facilities. Great for spontaneous or flexible travelers who aren't looking for luxury.
Pop-Up/Fold-Down Campers: Easy to tow along for travel with extendable side sections that pop/fold out for your camping trip. Can be towed by ordinary passenger vehicles. Better for camping trips than extended travel or living.
Factors to consider when choosing an RV
Whatever you decide on, it's a good idea to do a walk-through before committing to a purchase.  That way you can be sure the model you've settled on meets your standards for space and comfort. Other factors to consider include:
Duration of stay: Will you live in your RV all or some of the year? Then you may want a more spacious option. Just going on vacation for a week or two at a time? A smaller, more affordable option could work unless you want more space.
Tow vehicle: If you decide to go with a travel trailer, you may want to choose an option that works with the tow vehicle you already own; otherwise, you'll need to purchase a new vehicle to go with your new towable RV.
Interior: Standard RV interior is usually brown or black and it's expensive to customize the color scheme. You can always accessorize to add color. Also think about your must-have features such as a separate bedroom, "real" bathroom, comfortable seating, etc.
Number of travelers: Are you traveling solo or as a couple? Families with kids will need more space and amenities to keep everyone happy on the road.

Benefits of buying a new vs. used RV
Once you have a motorhome or trailer model picked out, your next big decision is whether to buy new or used. Here are the pros and cons of both options:
Buying a new RV
Equipped with the latest technologies and finishes
No prior damage or wear and tear from previous use
You'll get exactly what you want for the price you're willing to spend
Custom options like color choice, layout, finishes are more available
Has a full manufacturer warranty from the moment you purchase
On the other hand, buying new means paying a premium and dealing with high depreciation.
Buying used
Save significant money on the overall purchase price
Can rebuild and restore to your liking
Insurance will be cheaper for a used RV
Less/lower depreciation of the vehicle
Option for private sale and extended warranties from third parties
On the downside, you may have to contend with a limited inventory and a greater chance of discovering issues with the RV.

What you need to know about RV Loans
You've picked out an RV model, decided whether to buy new or used, and now you need help paying for your RV. An RV loan is a type of long-term financing specifically used for the purchase of a new or used recreational vehicle, motorhome, travel trailer, or camper. As with a regular car loan, RV loans are secured by the value of the RV itself. Here's what else you need to know about RV loans:
Repayment terms vary.
The better your credit score, the better interest rate and loan terms you may qualify for.
An RV purchase can be written off on your taxes if you live full-time in the RV. You can also write the interest off on your taxes if you use the RV as a secondary residence. To qualify, your RV just needs to have sleeping, cooking, and toilet facilities. Find more information on the IRS website.
Remember that the longer your repayment term, the lower your monthly payment will be but the more you'll pay in interest overall. So aim for the shortest loan term you can comfortably afford to keep if your goal is to pay the lowest amount possible in interest.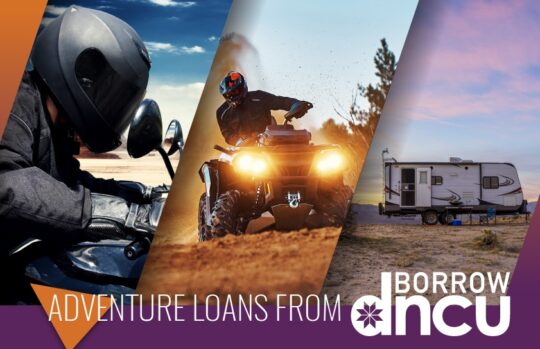 Tips for Financing an RV
Not sure if you're ready to apply for an RV loan? Here's what you can do to improve your chances of getting approved:
Improve Your Credit Score. Your credit score impacts the kind of loan you receive in terms of interest rate, the amount you qualify for, and term length. It's recommended to have a credit score of at least 750 to qualify for the best RV loan and interest rate.
Set a Budget. RV's and campers can range in price from tens of thousands of dollars to a six figure price tag and higher. So, before you start shopping, it's best to have a set budget in mind because it's easy to get carried away once you're in the shopping process. Ask yourself how often you plan on using it and where you plan on traveling with it. Also, consider mileage, safety, model, upkeep, drivability, etc. to make sure you're focusing on vehicles that will give you the most bang for your buck where you want it.
Save for a Down Payment. RV loan down payments are typically at least 10% of the purchase price. If you put more money down, your monthly payments will be more affordable overall and you may also qualify for a better interest rate.

Additional Costs to Consider
As with any type of vehicle or trailer, there are maintenance costs beyond the purchase price. Here's what to expect:
Insurance and GAP coverage (get quotes from multiple insurance companies)
Ongoing maintenance and repair costs (may be less or none upfront if you buy new)
Gas, propane, and fuel
Septic and plumbing costs/disposal
General travel costs including RV park lodging, food, cooking supplies and internet/cable
Learn more about RV Loans from Del Norte!
Ready to take your life (or just a weekend or two) on the road? Check our current rates on RV Loans and apply online today! Lock in a low rate to finance your motorhome, trailer, camper van, or ATV purchase with a Recreational Vehicle Loan from DNCU!
Have questions? Call us at 1-877-818-DNCU (3628) or contact us online and we'll be glad to get you back on the road with the best deal possible!