Annual Event Highlights Efforts to Empower Financial Future of New Mexico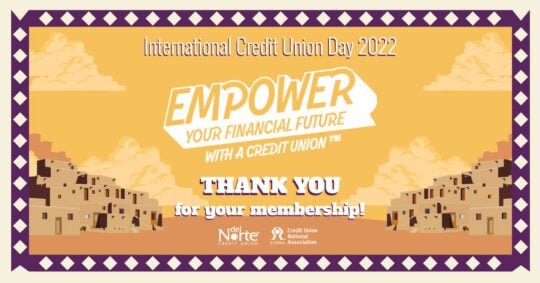 Santa Fe, New Mexico, October 19, 2022 – Del Norte Credit Union joins over 56,000 credit unions around the world to celebrate International Credit Union (ICU) Day® on October 20, 2022. The theme of ICU Day 2022 is "Empower Your Financial Future with a Credit Union."
ICU Day highlights the many ways that credit unions across the world help members improve their financial health and well-being. Partnering with GreenPath, a national nonprofit financial counseling service, Del Norte Credit Union provides free information that covers a variety of financial issues affecting the New Mexico community, including housing services, credit counseling, and financial education.
"Our goal at DNCU is to serve as an ideal partner for a better future," explained DNCU President/CEO, Chuck Valenti. "This drives us far beyond providing financial services and towards a deeper understanding of economic issues experienced by members of our New Mexico community."
Credit unions were built on the principle of "people helping people." We've seen that philosophy in action for more than 100 years, with credit unions providing access to affordable financial products and striving to meet the needs of underserved communities.
Del Norte Credit Union is honored to be a part of this proud tradition.
Del Norte Credit Union invites both members and nonmembers to celebrate ICU Day by taking advantage of a comprehensive set of complimentary financial resources in the Financial Fitness section of dncu.com. You are welcome to stop by any DNCU branches to pick up an apple from the Velarde Fruit Basket while supplies last.
International Credit Union Day® is brought to you by Credit Union National Association and World Council of Credit Unions. This year's event is proudly sponsored by Zogo.
About Del Norte Credit Union
Chartered in 1954, Del Norte Credit Union is a not-for-profit credit union based in New Mexico with a mission of improving lives. DNCU offers a wide variety of products and services designed to make members achieve financial success. Today DNCU serves more than 57,000 members throughout New Mexico and the United States.
MEDIA CONTACT: Kim Currie, Chief Marketing Officer | [email protected] | 505-455-5342