Checklist for Winterizing Your Home in New Mexico
While New Mexico is known for its pleasant climate, temperatures can fall sharply overnight, and the higher in elevation you are, the colder you can expect the temperature to be. Winter in New Mexico is the driest season of the year. Still, snow can fall in mountain areas and the valleys can see rain over the winter. So, winterizing a house in New Mexico looks a little different than other parts of the country, but it's still an important part of being a homeowner here. Keep reading to learn how to winterize your home in New Mexico!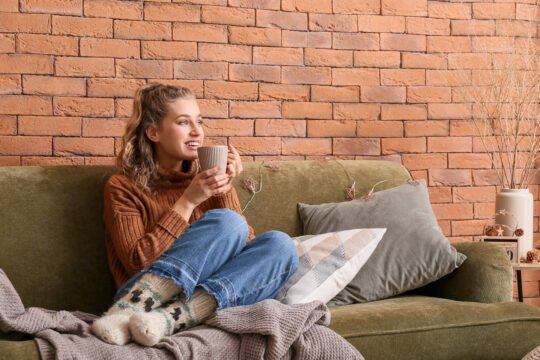 1.  Maintain Roof and Exterior
Maintain your roof and home exterior throughout the year to make sure your roof is able to handle the stress of ice and snow throughout the winter.
THE FIX/PREVENTION:
Clean your gutters before winter hits to remove leaves and other outside debris, as well as to unclog any gutters or drains. This is important to do before the winter because, if gutters are clogged, then melting ice and snow from the roof has nowhere to go and will stay on the roof, potentially causing damage. Repair any loose shingles or roof slats and consider having a professional roofer inspect your roof before winter if you suspect there may be issues.
For example, some New Mexico homes have pueblo-style or flat roofs. If you have one of these roof types, it's especially important to make sure water can drain properly from the roof.

2.  Keep Your Home Energy Efficient
Take steps to ensure your home is energy efficient throughout the winter to keep heating costs down.
THE FIX/PREVENTION:
Check doors and windows for air drafts before the winter. Seal as needed with weather stripping or caulk on the interior and exterior seams. You can also use window film to help with drafts as well. Inspect your home insulation and see if it needs to be replaced; as time goes on, insulation loses its effectiveness. Install hot water-saving showerheads and faucets to help lower energy use. Turn off and unplug appliances and electronics when not in use as well.
Switch your thermostat to a programable schedule where you can customize your heating settings so the system doesn't run when you're not home. This will help you save on your energy bill. Due to New Mexico's high altitude, the temperature can drop drastically at night. Programming your thermostat accordingly will help you save money on utility bills.


3.  Maintain Furnace and HVAC Systems
Make sure your HVAC and furnace are functioning properly, up-to-date, and cleaned out before the winter.
THE FIX/PREVENTION:
Check and replace your heating system's filter every 30-60 days, especially before winter starts. You may also want to check on the filter more frequently during the winter. Check air ducts for air leaks to prevent heat from escaping. Call a professional to fix any leaks if necessary and to clean out debris and dust from air ducts.
4.  Prevent Frozen Pipes
Pipes tend to freeze because they're most often located in the basement or attic with the least amount of insulation. A burst pipe can cause significant water damage in your home.
THE FIX/PREVENTION:
Install pipe insulation on hot and cold pipes ahead of time to keep pipes warmer in winter. Pipe insulation is inexpensive and can be found at most hardware stores. Heating cables are another option, but a little more expensive than insulation. Other options include pipe sleeves, heat tape, heat reflector lamps, and actual cables that wrap around pipes to heat them in the winter.
While New Mexico's average winter temperatures are milder than most of the rest of the country, it's still important to take steps to prevent pipes from freezing. Normally, water freezes at 32 degrees, but water in pipes has a higher freezing point. On the coldest nights, you can open sink-cabinet doors to circulate the warm air in your home to the pipes under your sink. It's also a good idea to know exactly where the shut-off valve is so that, in the event that your pipes do burst, you can turn off the water immediately.
5.  Check All Smoke Alarms and Carbon Monoxide Detectors
Heating is the cause of nearly one-third of structural fires during the winter months, according to the US Fire Administration.
THE FIX/PREVENTION:
Check batteries in all smoke and carbon monoxide detectors, replace expired batteries, and have extra backup batteries on hand or in storage for the winter months. You should test all smoke detectors once a month.

6.  Clean Your Chimney
Chimneys can become fire hazards if not maintained properly and can cause damage to the interior and exterior of the home.
THE FIX/PREVENTION:
Have your chimney professionally swept and cleaned out every year before the winter. If you don't clean the chimney, creosote will accumulate and create a fire risk, bird nests or other debris could also cause an unexpected hazard. Blockages in the flue could lead to smoke or other gases backing up into your house, affecting air quality and potentially risking health and life.
7.  Prep for Winter Storms
Here in New Mexico, our winter storms may not be as severe as most of the rest of the country, but we do see an average of about 10 inches of snowfall per year.
At DNCU, we always like to say that every homeowner in New Mexico should have a HELOC that is ready for an emergency. Most homeowners will not know if they have a roof leak until that first winter storm arrives, and the average cost of a roof replacement is nearly $20,000. Having a HELOC in place will mean that you can call a roofer and write a check that day to get your roof fixed. You don't want to wait several weeks to get the money you need to fix your roof during winter storms.
THE FIX/PREVENTION:
Stock up on snow removal tools and products such as snow shovels; salt for driveways, sidewalks, and walkways; and ice scrapers for your car. If you have a large property, it might be worth it to purchase a snowblower to save time and reduce physical stress. Make sure to cover and shut down your pool if temperatures drop low enough. Winterize your sprinkler or yard irrigation systems if you have them because these pipes are also prone to freezing and winter damage if not maintained properly.
8.  Other Easy Winterizing Tasks
Wrap up your winter prep with any of these tasks that are relevant to your property:
Disconnect outdoor hoses from outside faucets and turn off the water.
Reverse the direction of ceiling fans to run clockwise during winter months to push heated air down from the ceiling.
Bring all outdoor plants inside for the winter when it drops below 45 degrees or protect your plants with coverings such as a pop-up greenhouse.
Put outdoor furniture in garage or storage, or wrap outdoor furniture in a tarp and secure with bungee cords to prevent damage during winter. Bring your grill (especially the propane tank) inside your home or garage.
Check out the NM Energy$mart Weatherization Program!
The New Mexico Mortgage Finance Authority (MFA) runs this program, which provides free energy-saving retrofits and home modifications to eligible homeowners and renters. Learn more about the program here.
Del Norte is your ideal partner for home improvement projects!
Do you need more work done to winter-proof your home? Finance home improvements to help protect your home during the winter months with a Home Equity Loan or Home Equity Line of Credit from DNCU! Visit any of our Northern New Mexico locations in Santa Fe, Albuquerque, and Rio Rancho to learn more. Also, check out our article on buying a vehicle during the fall or winter!
Contact us with any questions to get started!